BluePrint 3D is an original game in which you have to solve several kinds of puzzles. Initially, you will see a myriad of dots and dashes. You must run your finger in an arrangement of dots and dashes to reconstruct the shape.
Graphics
A stylish game background with cutting edge HD graphic designs. It reproduces forms of perfectly sketched images of monuments, animals or tools.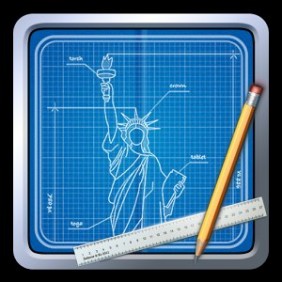 Usability
Hust drag your finger across the assembly points on the screen to rotate the figure, and all of a sudden you'll notice that the lines start to make sense! Solve the puzzle by rotating the figure in all directions and on all planes until you hit the sweet spot. Once you're there, the secret picture will reveal itself.
Replay
Over 300 levels await you. Divided into 12 themed packs (musical instruments, animals, space, technology, christmas, etc), you'll get several hours of play out of it. The game is also connected to Game Center Google where 42 challenges await you.
Sound
An original soundtrack of rather elegant music accompanies you to ensure smooth transitions between screens and selection phases of the game.
Video
Conclusion
A crazy addictive game with a beautiful design aesthetic that gives your spatial reasoning a nice workout. Buy it for $1.49 from the Google Play store.
Download