Take care of the world's unluckiest patient, Bob, with your very own shaky hands. Attempt to perform all kinds of crazy surgeries to try to save his life or fail hilariously in the process and see what happens to Bob. Developed in just 48 hours at the 2013 Global Game Jam in January, Surgeon Simulator is a popular surgery simulation game that allows the player to unleash medical mayhem. It is available in the iTunes store for $3.99 or in the Google Play store for $4.83.
Graphics
The game took home the Mobile Entertainment Awards 2014: Best Design award, and I can see why. The graphics are clean and sharp, a little gruesome, but not so realistic that it would be too gross to play.
Usability
It is hard not to make a mistake in this game but that is part of the fun. The controls are hard until you learn how to use them, but after that the game is really fun. It is very easy to accidentally drop something but what happens is so comical. Users are on both ends of the spectrum about whether the controls are too sloppy or if it is intentional. Either way, it's a game so have fun with it!
Replay
There aren't a lot of challenges so the game can be completed quickly. I think the developers will eventually build out the game with more levels or scenarios like in the PC version.
Sound
Mostly funny sound effects to match the game play. You can poke an organ with your finger and hear its wet squish.
Pictures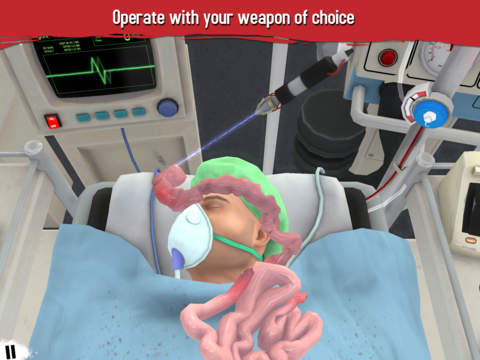 Video
Conclusion
A lot of fun and a lot of laughs, Surgeon Simulator has inspired thousands of fan videos and grown the franchise across multiple platforms. For $3.99 on iPad or $4.83 on Android, the game provides hours of playful entertainment.
Download