The purpose of this game is to break out of the rooms. Solve the puzzles and find all the hidden objects that you have to use in the rooms in order to advance to the next floor. Challenge yourself in this fun, addictive, free and popular puzzle game.
Graphics
Graphics could not be more basic in the genre Room Escape but you don't want too complex of graphics to unnecessarily complicate the game. In the early levels before you explore the scene and tap the furniture to get close.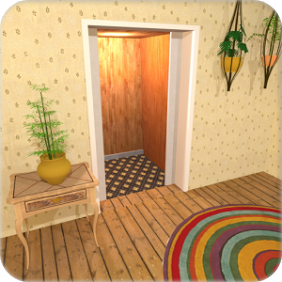 Usability
Looking for a number here, a color there and even a screwdriver behind the vent lets you channel your inner MacGyver. A simple tap of the finger allows you to explore the different corners.
Replay
It's a little bit of a disappointment since the game has only 10 rooms so far. The publisher promises more but for now the 10 rooms are really too easy. In less than an hour the case is closed. But since the game is free and new rooms are promised, don't disparage the replayability for now.
Sound
Playful background music accompanies you as you as you open the elevator doors that take you to each room. A few reactionary sounds here and there but nothing special.
Video
Conclusion
A classic room escape game for fans of the genre. The puzzles evolve the further you play, which enhances the experience and keeps it fresh. The 10 floors are somewhat limiting for now, but look forward additional floors to come.
Download