Heads Up! is the fun and hilarious new game that Ellen DeGeneres plays on her show -- and now you can play it with your friends! From naming celebrities, to singing, to silly accents -- guess the word on the card that's on your head from your friends' clues before the timer runs out! Heads Up! currently sells for 99 cents on the app store.
Graphics
There isn't a whole lot to this game as far as graphics goes because it relies on text. However the unique element of this game is that the front facing camera films the 'actor' giving clues, resulting in some pretty hilarious reenactments. Check out their facebook page for the videos: Heads Up App on Facebook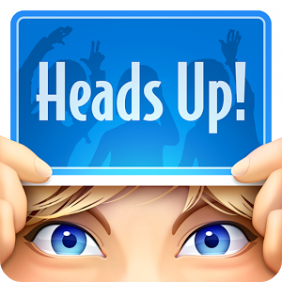 Usability
The game currently includes 7 category decks to choose from, each packed to the brim with exciting gameplay cards. Current decks include: Celebrities, Movies, Animals, Accents, Characters with 99 cent in-app purchase of an additional 11 decks. The game is very easy to play, simply tilt it back to pass and tilt it forward when it is correct.
Replay
It's a simple and fun game for all-ages that is sure to provide hours of entertainment at parties groups and plenty of amusement with the recorded videos.
Sound
This game does not require much sound effects, only the requisite bells and whistles of acknowledgement.
Conclusion
A novel idea that I wish I thought of first. It's charades for the 21st century. Developers (and most humans) probably caught on to the fact that holding a cellphone to your forehead might have unpleasant effects so they created this iPad version.
Download