The premiere 6-string acoustic steel guitar simulator available in the iTunes store for $2.99, Pearl Guitar delivers absolutely stunning sound - the most realistic, lush, organic and warm tone you will hear in the mobile digital domain. In addition, Pear Guitar features Retina graphics, smooth animations and stylish parallax effects animating the strings!
Utility
Musicians and amateurs alike may find this iPad app to be a good way to supplement their creativity. Ideal for creating new sounds and melodies, to experiment or just for fun without the need to have a guitar in hand, an app like this can be very useful.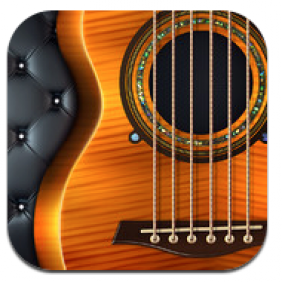 Features
The standard edition comes with:
+ A virtual 1979 Martin acoustic steel guitar
+ Unprecedented sound realism
+ True stereo output
+ CascadeEQ synthesis - lush and warm sound
+ Guitar body hits and hums, string noises
+ Variable strumming speed
+ Conga Drum Machine
+ Up to 16 chords per song
+ "Smart Follow" highlights the next chord
+ "SoloBoard" - unique solo interface
+ Record to .WAV with a single tap
+ Record singing using a headset or mic
+ iTunes File Sharing support
+ 16 most popular chords With an in-app purchase you can upgrade to Premium which includes Audiobus, File Manager, and the Chords menu, as well as the ability to make your own songs using the built-in 1000+ chord database (with variations), or your own custom created chords.
Ease of use
Everything happens on the same screen where you can access the strings of the guitar itself. You can play, make the desired settings, save your compositions and more. In short, you will not be lost, because everything is centralized.
Design
Compared to other music applications, this one is a cinch. Some users complain that the perspective is odd, like you are viewing through the back of the neck.
Video
Conclusion
Much cheaper than real instruments, music applications are a good way to become familiar the instrument without breaking the budget. Though it can't compare to the real thing, with an application like Pearl Guitar you will have fun, whether you're a beginner or experienced player. The sound quality is based on the legendary vintage 1979 Martin & Co dreadnaught, one of the best acoustic guitars in the world. You're in good hands!
Download