Pet Rescue Saga like other King.com games like Candy Crush Saga is packed with a massive amount of levels and includes deep Facebook integration. You can get and give gifts to friends, see who is winning, whom to beat and more when logged into Facebook and playing this game.
Graphics
Garishly cartoon graphics compete for visual attention on the screen. The pet characters look like they came from a Pixar movie. Slightly creepy.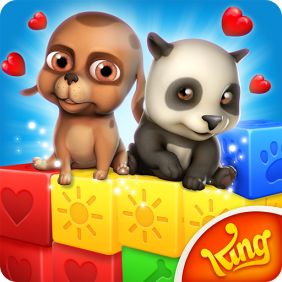 Usability
The game relies heavily on social interaction. Every area where the pet snatchers have blocked the path you have to wait for friends to help you unlock the path. Some users report errors where they have to uninstall and reinstall the game to get past it.
Replay
The game forces in-app purchases or leveraging Facebook in order to continue past certain levels. This pigeon-holing can be somewhat restrictive and imposing. Though a fun and addicting game, it is best to stop playing when the requests become too annoying.
Sound
Nothing special here except repetitive reactive sounds to on-screen actions.
Conclusion
An addicting game from the makers of Candy Crush Saga but the reliance on in-app purchases and Facebook integration make gameplay cumbersome.
Download