*Currently 50% off in the Google Play store* - Ever wanted to play with your food? Now you can! Toca Boca kids apps bring you Toca Kitchen, where you cook and play with food for four hungry characters. Pick any ingredient and prepare it in your own way! Slice, boil, fry, cook, microwave or mix? And wait for your hungry friend´s response. Toca Kitchen is not a game - it's a toy where you and your kids get to explore cooking. What happens if you mix a carrot and then fry it? Will the cat like it? And what is the bull's favorite food? Toca Kitchen supports free play for all ages and is a great way to use your imagination.
Graphics
Kid-friendly, cartoon characters are visually appealing for kids, while the graphics for the food are realistic enough to be educational for kids to learn and identify. The app even shows the color of the food changing as it boils or the pan hissing as it sautés.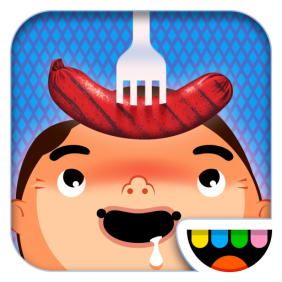 Usability
Kids can learn a little bit about cooking as they chop, blend, sauté, boil, and microwave a variety of foods. Kids can also learn the types of diets preferred by various animal characters.
Replay
Keeping in mind that this is a game for kids, it is appropriate for kids under 12 to experiment with cooking. If you are an adult, be prepared to be bored pretty quickly because there are no missions or activities to encourage the player to continue.
Sound
Not a lot of sounds in this game, just the occasional monosyllabic grunts and gasps in response to the food, but after a few "yums!" they quickly grow on you.
Video
Conclusion
Little kids who just want to play and explore without worrying about rules to follow will adore this app. It's fun to figure out which foods the characters like, and it's really neat to watch the food brown and steam while it cooks. This is a great app for cultivating early exposure to cooking.
Download