Get ready to join Swampy, Allie, and Cranky on their NEXT exciting adventure! The sequel to the most addicting physics-based puzzler from Disney has finally arrived. Where's My Water? 2 launches with three brand new locations including the Sewer, the Soap Factory, the Beach. Best of all, the puzzles are all free! Cut through dirt, and guide fresh water, purple water, and steam to help Swampy and his friends!
Graphics
Disney can always be trusted in terms of graphics and drawings. This sequel welcomes back the friendly crocodile Swampy in an underground world.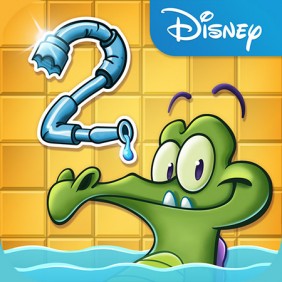 Usability
The game play is exactly the same as the original Where's My Water. You must help Swampy to take a shower by lowering the water from the top level down to him by digging tunnels. Try to retrieve the plastic ducks on the road to complete everything. Plus many items will be on the way to help you or block you!
Replay
We like the many game elements added to vary the puzzles and game play to make the fun last longer. Over 100 levels available in its first release.
Sound
An upbeat and cheerful music soundtrack as you play fits well in the game. You can also hear the sounds of crocodiles, and a quieter soundtrack to help you concentrate.
Conclusion
Free to play but with in-app purchases to allow you to buy energy and added social media integration can be annoying and disruptive to game play.
Download